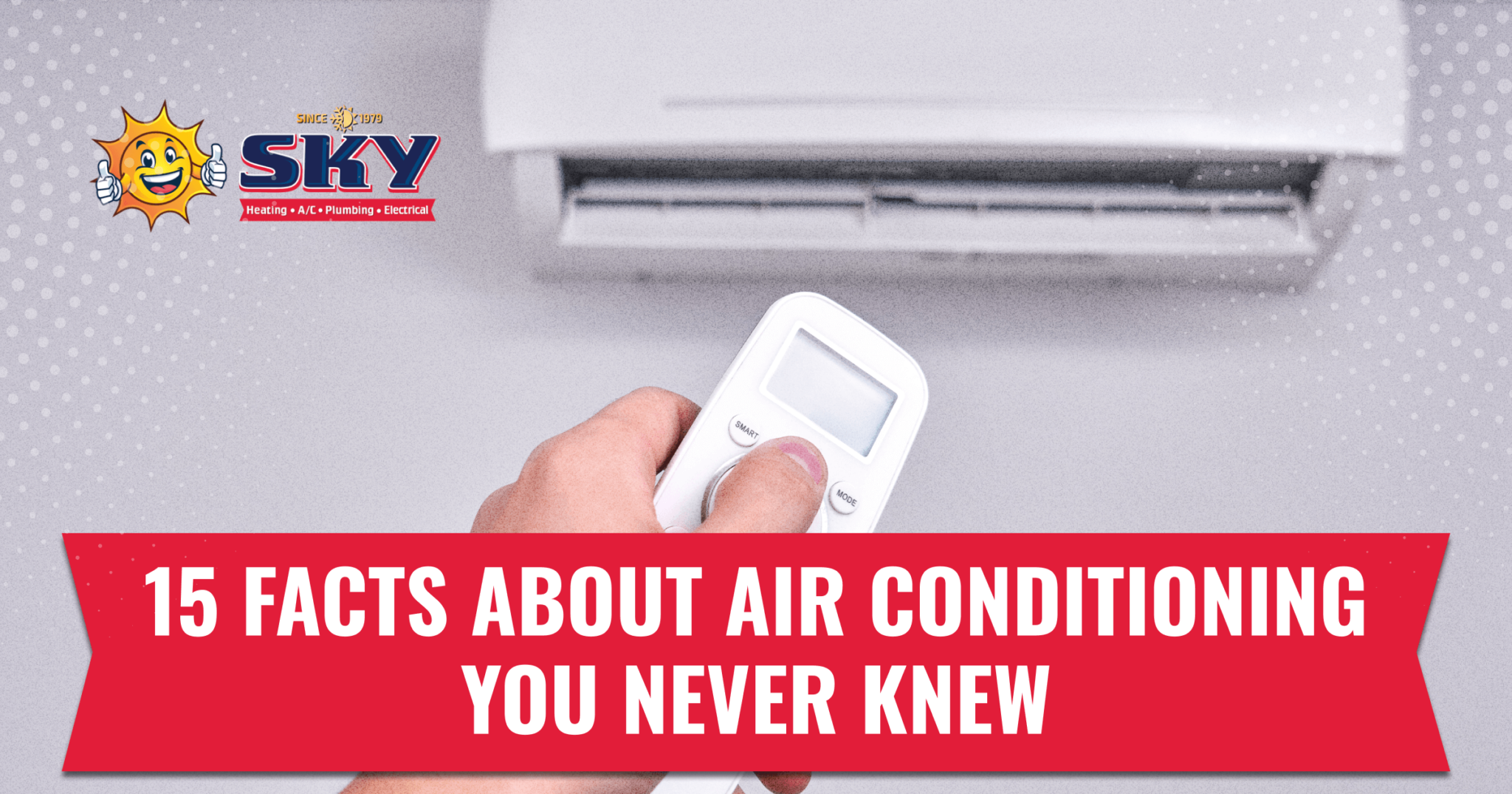 For most people, air conditioning is a modern convenience. It's easy to use—just turn it on, or raise or lower the temperature, to stay comfortable. But there's more to it; there are probably many facts you never knew about air conditioning, and far too many to cover everything here. Nonetheless, in between taking AC repair calls, we've picked some of the most interesting ones we could find.
15 Fun Air Conditioning Facts for the Summer
People Found Ways to Stay Cool Before Air Conditioning: Electric fans were used, which don't actually cool air but help decrease body temperature. The "wind chill effect" evaporates moisture from the skin to help us cool down. Handheld fans were made by the Chinese about 3,000 years ago. And before AC was available, architects would design buildings with high ceilings, breezeways, porches, and landscaping that provided shadows.
Air Conditioning Was Not Invented for Comfort: Willis Carrier developed a cooling system for a New York-based publishing company to prevent paper from expanding and ink from running in hot, humid conditions. Its coils were water-cooled and the air was circulated through them to provide cooling.
People Once Flocked to the Movies to Stay Cool: Movie theater owners invested in AC technology in the early 1900s to attract customers. People would go to the movies just to cool off in the summer since AC wasn't available for homes. The first such system was installed in 1911 at the Folies Bergère theatre in New York City. In the 1930s, the term "Summer Blockbuster" was coined in reference to hit movies being released in the summer to draw patrons.
The First Domestic AC Was Huge: Installed in 1914, it measured over 7 feet high, 6 feet wide, and 20 feet long. The first room air conditioner wasn't invented until 1931, while the first car with an AC option was introduced by Packard in 1939. Its components took up half the trunk!
Ice Was First Used for Air Conditioning: Prior to the invention of the first AC, blocks of ice would be used to cool rooms. At first, AC output was calculated in "ice power", a measure of how many ice blocks would be needed to produce the same amount of cooling.
The First White House AC Cost $30,000: Herbert Hoover was the first president to have air conditioning. It was installed after the 1929 stock market crash. Most homes didn't have AC until the 1970s when it became more affordable.
Modern Medicine Owes a Lot to Air Conditioning: Many medications in use today were developed in temperature-controlled environments. Many laboratory tools and equipment are extremely temperature-sensitive.
AC Is Attributed to Population and Economic Growth in the Sunbelt: It's thought that states like Florida and Texas began to grow in the 1930s due to the availability of air conditioning. Living in these hot climates would be difficult without AC.
Summer Vacation Helped Avoid the Heat: Schools and businesses would take summers off to avoid the heat and work in the sun. Most schools still take the summer off even though AC is widely available.
The Concept of AC Isn't New: Ancient Egyptians kept cool by hanging wet reeds on walls. These kept out breezes and served as the first ACs with a water-cooling system. And what's widely considered a modern invention has been used for 12,000 years. Cave dwellers used geothermal energy to stay cool as early as 10,000 BC.
Cooling Towers Were Invented in the Middle East: Architects would build towers over underground cool air channels to capture, pull up, and disperse cooler air. They would also force warm air out. Cooling towers are still used in large buildings.
Ancient Greeks and Romans Invented Ducting: Central heating and cooling were developed using water piped from aqueducts in Ancient Greece. Below mosaic-tiled stone floors and columns were rooms that would move cooled or heated air into a room.
Half the Electricity You Use Goes Towards Heating and Cooling: The average U.S. family spends nearly $2,000 a year on energy. High-efficiency air conditioners can cut utility bills by 20%. They also help reduce greenhouse gas emissions released by power plants, which are associated with climate change.
Air Conditioning Saves Lives: An AC can avoid dehydration, heat stroke, and many other issues related to hyperthermia. Since 1960, the chances of dying on a hot day in the U.S. has decreased by 80%. Research has shown one-sixth as many deaths occur on 90℉ days than in the early 1900s, and the likelihood of premature death was 2.5% on a hot day between 1929 and 1959 and 0.5% after 1960.
Mini-Split Systems Have Been Around: The first were sold in Japan between 1954 and 1968, by Mitsubishi Electric and Toshiba, for small homes. A multi-zone ductless system was created by Daikin in 1973. It also invented a variable refrigerant flow system in 1982.
Contact Sky Heating & Air Conditioning
Our company is known for high-quality AC repair, installation, and maintenance in the Portland area. We also specialize in heat pumps, geothermal equipment, and ductless systems. To schedule heating and cooling services, use our online scheduling tool or call 503-673-9083.